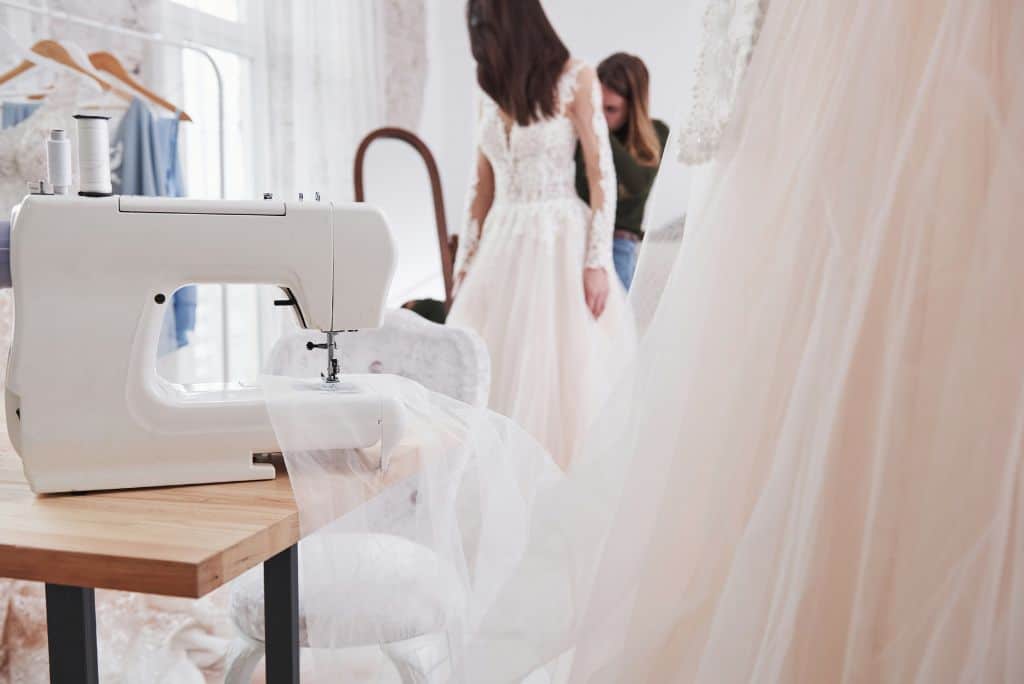 Searching for the perfect dress is one of the most enjoyable parts of wedding preparation!
Shopping for a wedding dress may be fun if you know what you're doing. It's your chance to shop for the dress of your dreams, and you should take advantage of it. The question, though, is how early one should begin to consider purchasing a wedding dress.
To begin, you must think about what you hope to accomplish for yourself. The next step is to examine the hours and availability of bridal shops. Lastly, make sure it will match your glorious day in the wedding chapel in Las Vegas.
Perfect Time for Looking for a Wedding Dres
Start wedding dress shopping a year in advance. You'll have time to find the perfect wedding dress. You may order, customize, or buy a dress in a year.
While it's lovely to get a head start, wait until after the first year has passed before placing any orders. There will be more excellent room for maneuvering later on.
Weight gain or loss is immaterial. The bride's self-image typically worries her before the wedding. Whatever weight you anticipate losing or gaining due to pregnancy, etc., you should still start looking for your wedding dress at least a year before the big day. Consider your anticipated weight change before making any significant purchases.
Even if you shed a significant amount of weight over the year, the number of sizes you may safely drop down to in time for the big day will likely be limited to just one or two. You will now buy that dress since it will fit you perfectly.
Remember that a dress may be sized down more quickly than a larger size can be added to it. It is far simpler to buy a new maternity dress rather than try to adapt an existing one if you do get pregnant.
Best Time to Buy a Couture Dress
The best time to secure a custom-made wedding dress is nine to twelve months before the big day. It will give you and your designer sufficient time to discuss your ideas and complete the outfit.
It usually takes around six months before a bride orders a bespoke wedding dress for it to be completed. You should add time for alterations before and after your custom garment is manufactured.
The Best Time to Order a Wedding Gown from a Bridal Shop
Going to a bridal shop to try on gowns is a common way to locate the wedding dress of your dreams. It is a fun activity for the bride and her bridesmaids to undertake with her mother or future mother-in-law.
The salespeople at bridal shops are in the best position to offer guidance on which styles of wedding gowns would work best for you. Budget, the seasons, the trends, and the best colors for your skin tone are all things they can advise you on as well. We strongly suggest that most ladies go through this during their wedding preparations.
Once you've located the perfect dress, there's generally a delay until it becomes available. Once you've decided on a style and made a custom order, your wedding dress might take up to six months to appear in the store. If you plan on ordering your wedding dress, give yourself between eight and twelve months.
Best Time to Buy a Pre-Loved Wedding Dress
Unlike a new dress, you may buy a pre-owned one closer to the big day. It might be done four to six months before the big day. Yet, if you want to keep your losses to a minimum, it's best to look 8-10 months into the future.
Be sure the dress fits you well and is of good quality before investing in a previously used bridal gown. If you decide a pre-loved gown isn't for you, you'll still have time to order a new one if you do this early in your preparations.
Best Time to Buy a Ready-To-Wear Wedding Dress
Retail stores sell wedding gowns, too. If your budget is low, buy an off-the-rack wedding dress at a bridal sale or discount.
It is also an excellent choice if you have a typical body type. You might choose a ready-made dress if you often wear a single size and have a few troubles with it.
Dresses purchased from stores should fit well enough to wear with no adjustments. If you desire a better fit, though, you can have minor adjustments made.
Four to six months before the wedding is an excellent time to buy a dress from a bridal store rather than having to order it online.
Providing Time for Wedding Dress Modifications
No matter how you get your wedding dress, plan on spending between one and three months on adjustments. That way, you may adjust for seasonal weight gain or loss. Due to our natural tendency to swell in warmer temperatures, a wedding dress is more likely to be snug in the summer than in the winter.
Dress alterations might range from taking it to bringing the hem up since you've decided on a different pair of wedding shoes. Make sure you leave yourself enough time to complete things before the big day, whatever they may be.
About six weeks before the wedding, you should be ready to have your last dress fitting and take your dress home.