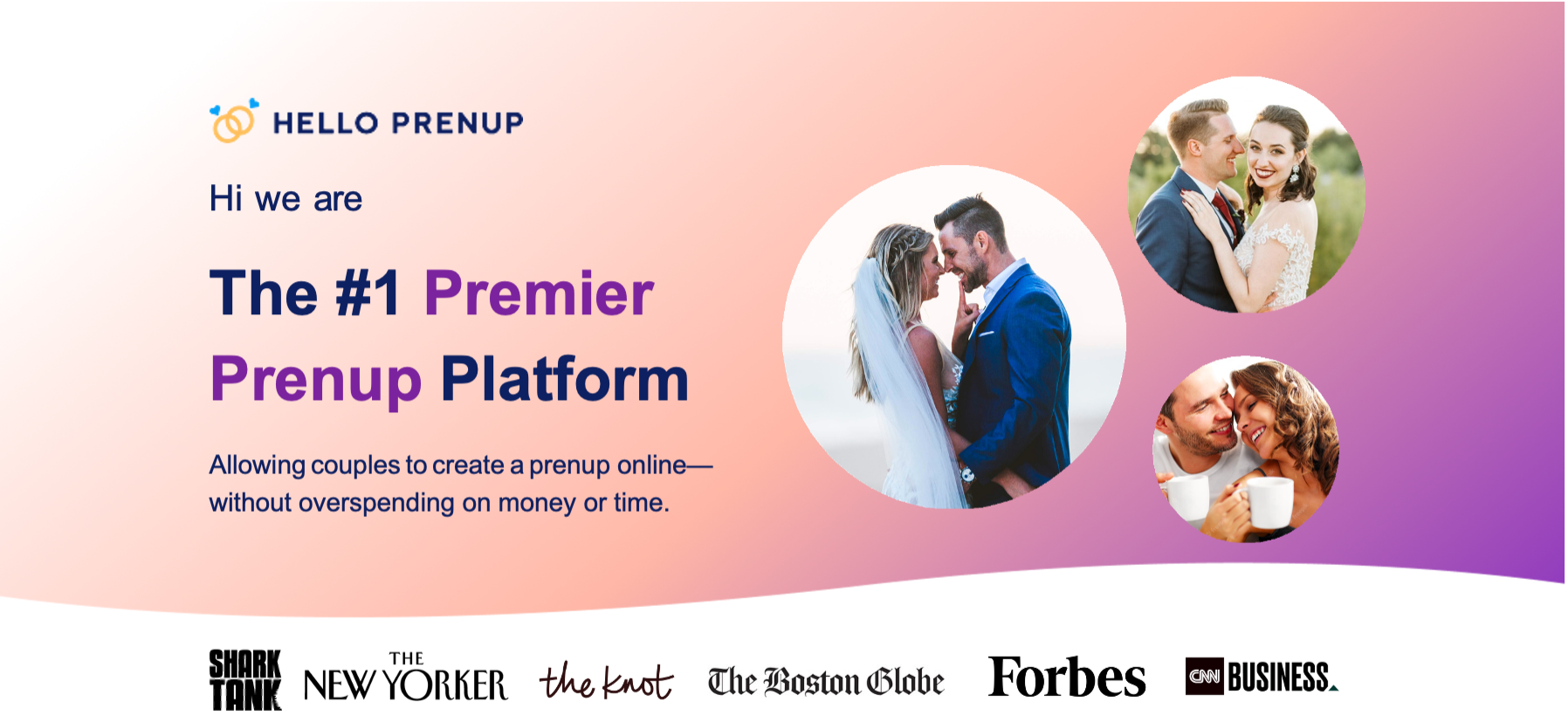 What exactly is a prenup? Colloquially referred to as a "prenup," this written premarital agreement is a private contract before you marry the love of your life. But how does a prenup work? This contract lists all the terms you agree to abide by in the event of a divorce and details the assets that you hold as a couple or individually.
A prenup can be an extremely effective tool in helping to start off your marriage feeling confident that you're safeguarded financially. And in the unfortunate event of separation or divorce, a prenup can help you to peacefully settle financial and other affairs—saving time, stress, and money and smoothing out the entire process (our reason for existing).
You can use a prenup as a sort of financial planning tool, allowing you and your future spouse to discuss how assets and debt will be managed during the marriage, too. The terms of a prenup set out what is to be done with certain assets and who is entitled to what.
Why HelloPrenup
HelloPrenup is the #1 premier prenup platform. By utilizing this all-in-one solution, you're ensuring a state-compliant, quality agreement at an affordable rate and reasonable timeframe.
Attorney Recomended
Book attorney services as needed at exclusive discounted rates. Thousands of attorneys have reviewed, approved, or partnered with HelloPrenup and agree that it is the #1 online source for prenups. Learn More
Completely online
No attorney office visits are needed. Our all-in-one platform guides you through different scenarios.
Complete your prenup on your timeline — without ever leaving your couch.
24/7 access. 100% stress-free.

Affordable
Traditional prenups cost anywhere from $2,500-$20,000+ per couple and require attorney services for even basic prenups.
HelloPrenup's prenups are only $599 per couple with the option to add-on flat-rate attorney services if desired.

Timely
Traditional prenups take anywhere from weeks to months to draft.
HelloPrenup's efficient platform allows couples to complete and download their agreement on the same day.

Collaborative
Discuss any specific areas related to your prenup through Hello Prenup Guided Process.
You can also connect with an optional attorney at any time. Hello Prenup has a very efficient and easy to use platform.
A prenup can be an extremely effective tool in helping to start off your marriage feeling confident that you're safeguarded financially.
Protect yourself from debt your partner may bring into the marriage
Make sure your children from a previous marriage are well taken care of regardless of what the future holds
Plan to financially support your partner's education or career at any point
Avoid traumatic conversations & conflict that could be resolved prior to marriage
Get on the same page about marital obligations and spending habits
Fill out your individual questionnaires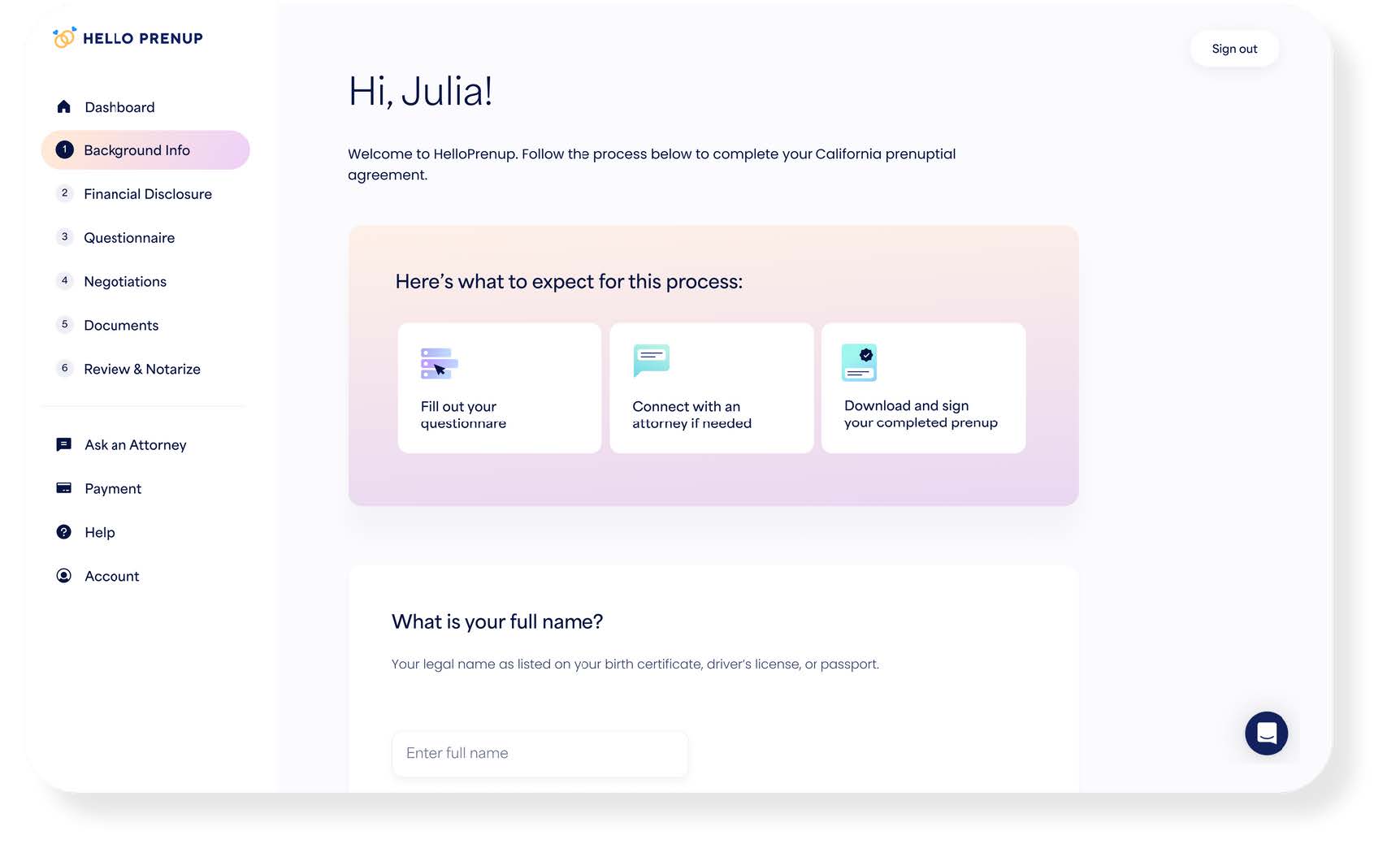 Collaborate on terms with your partner and optional attorneys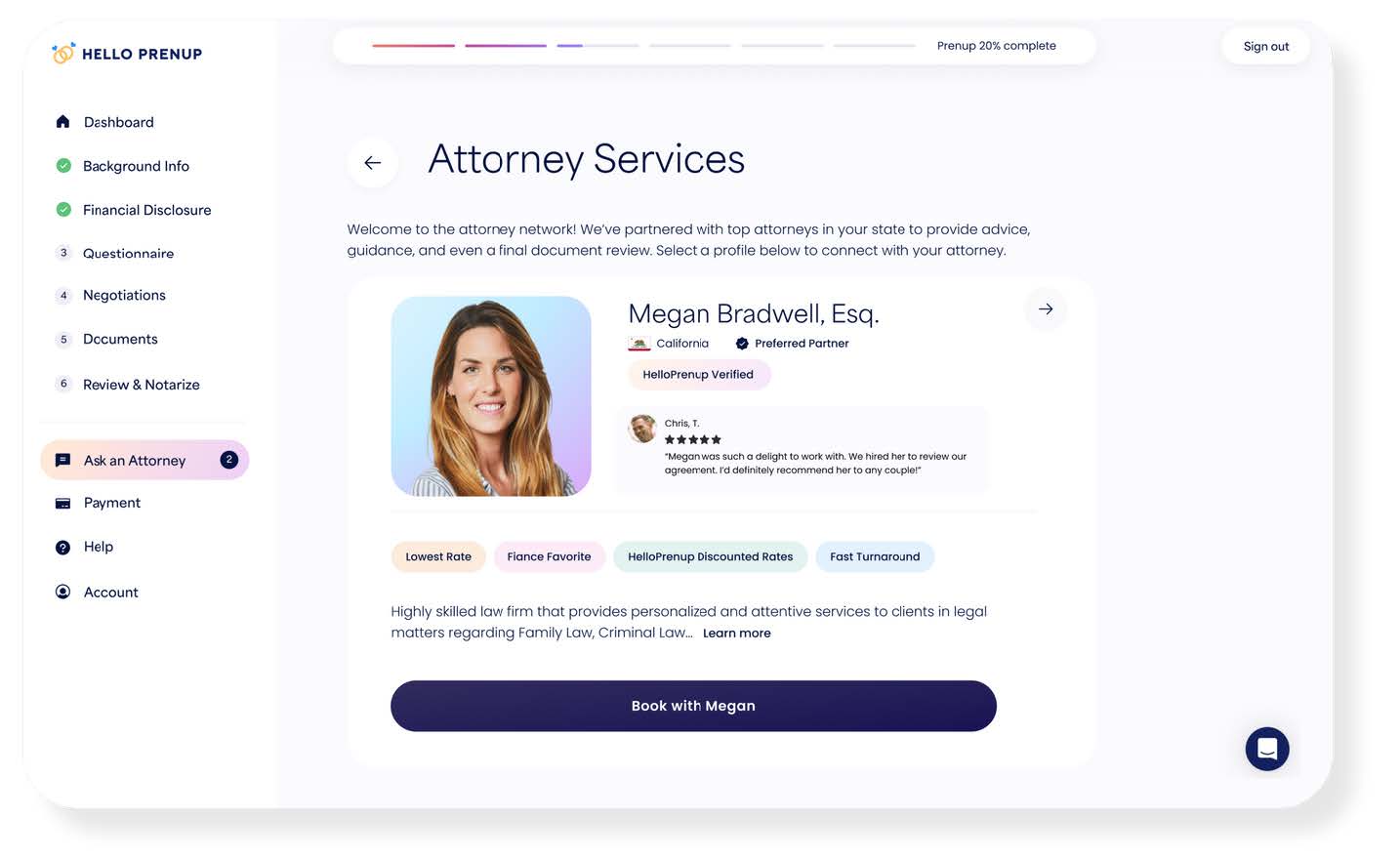 Generate and print your new prenup!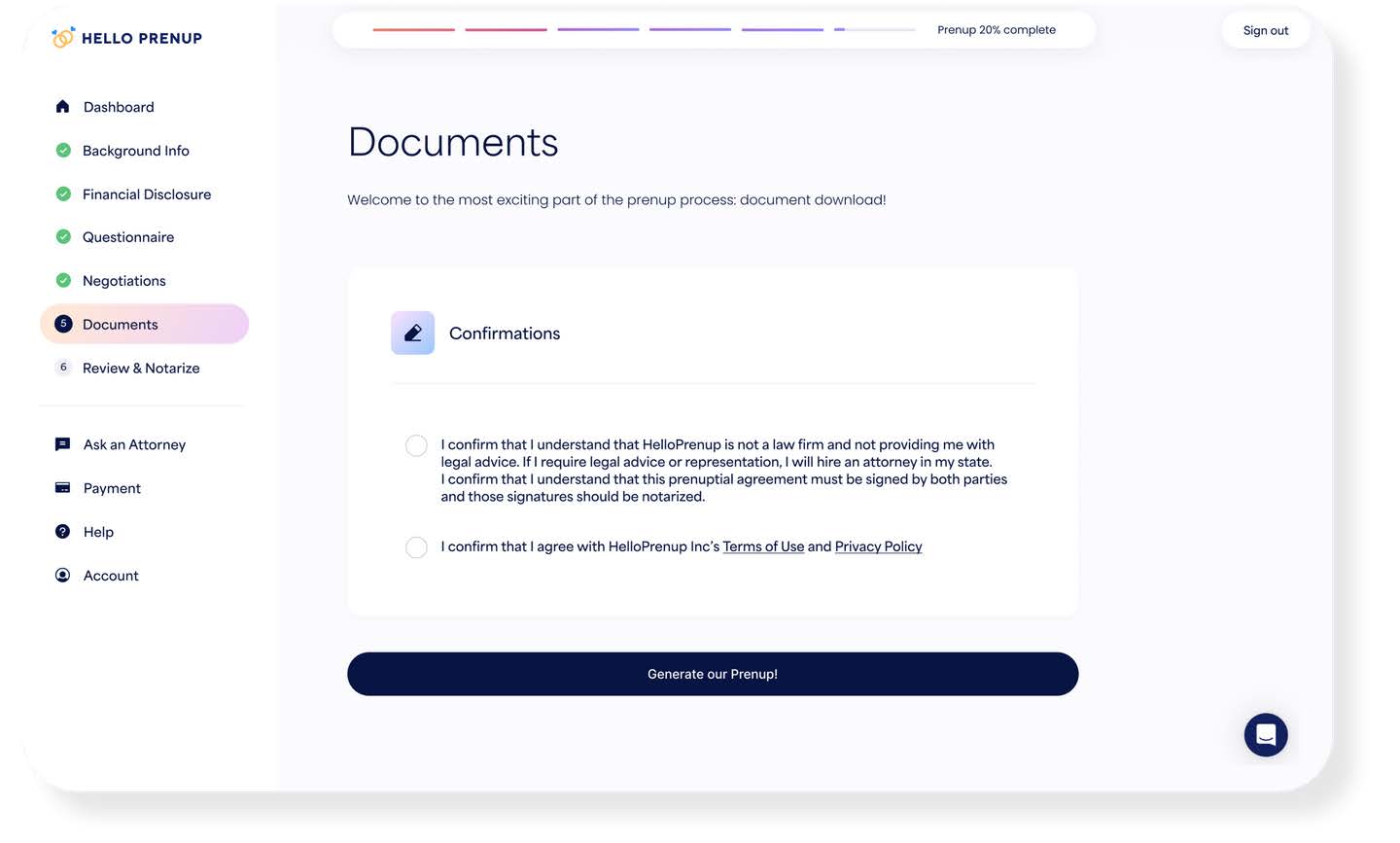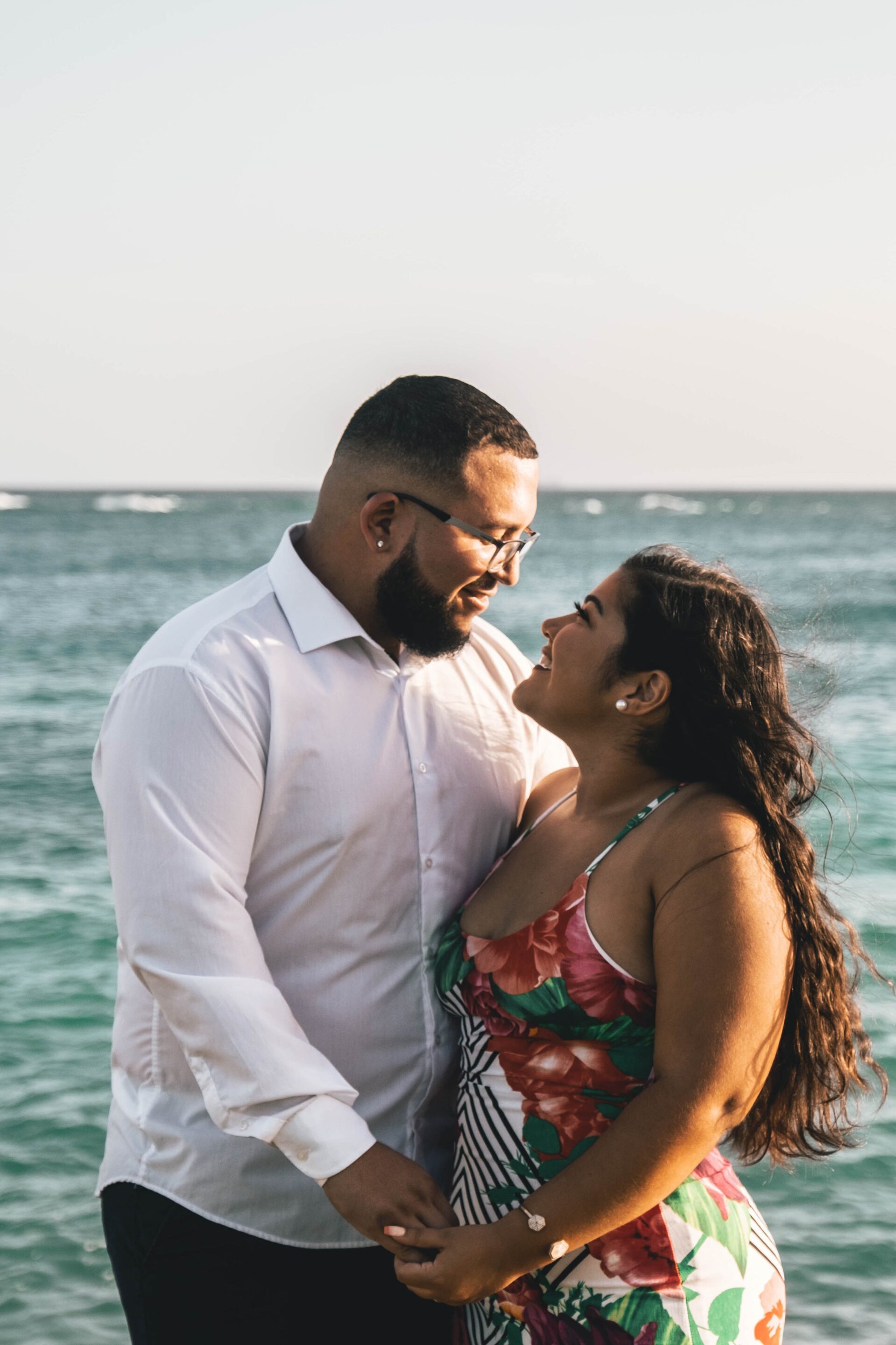 Jordon M., NV
"Straightforward process that met all the requirements a lawyer friend told us to double-check for.
Considering the cost of individual legal representation or having something from legalzoom be invalid because it doesn't meet state law, this felt like a better third way all around."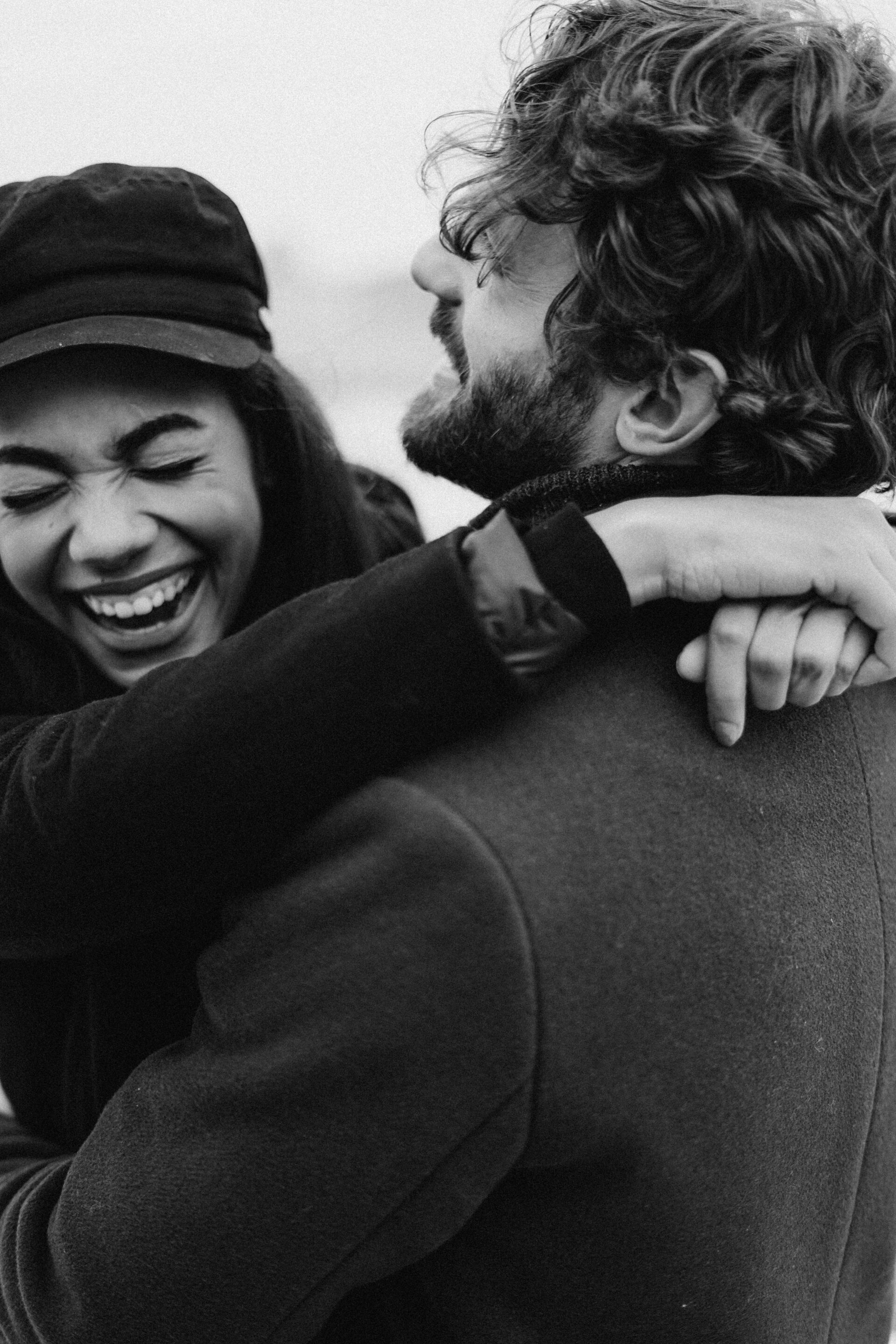 Kelly G., NV
"I just love that this isn't such a taboo thing anymore and that my partner and I can enter marriage on the same page financially.
I never even considered this for my first marriage and it would have saved me a lot of headache."