Have you had bad dreams about getting something on your dress or in your face right before the wedding? While that's highly improbable, it's still wise to be ready if it occurs!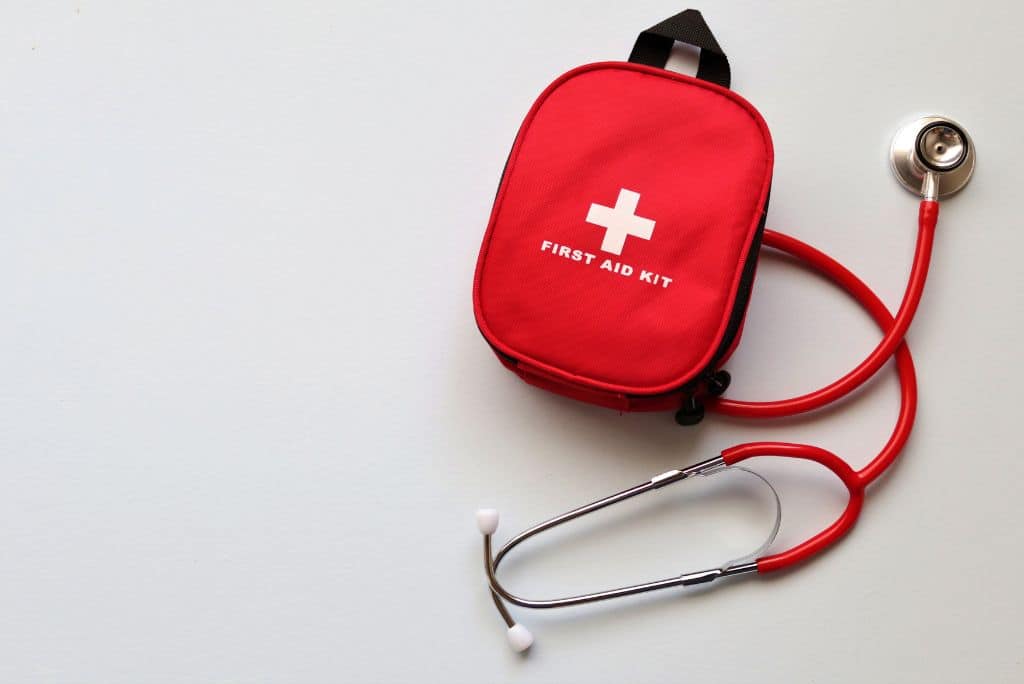 Having a well-stocked emergency kit on hand for your wedding day can simplify dealing with accidents, glitches, or other disruptions!
What is a Bridal Emergency Kit?
Perhaps you haven't even heard of emergency kits for the big day, much less why you need one.
Prepare for the unexpected by keeping a wedding emergency kit on hand. These are items you either forget about or are unaware you will need until it's too late. Most kits contain necessities like hygiene items, pharmaceuticals, and cosmetics.
A wedding emergency kit? Why would you need one? A few minor issues will likely crop up on your wedding day. There are a lot of little things that could go wrong, and it seems like it'd be impossible to plan for them all. The pressure is alleviated when a wedding emergency kit is on hand.
Contents of a Wedding Survival Kit
Here is a checklist to help you deal with unforeseen problems that may arise on your wedding day.
Handkerchief
You probably won't be able to hold back the tears at your wedding, and if you do, you probably don't want to be photographed wiping your eyes on a wad of crumpled tissue. One can fulfill the "something blue" requirement by using a handkerchief with blue accents at the wedding. Groomsmen are expected to have handkerchiefs as well.
Kit for Stitching
A sewing kit may be your most reliable weapon against the elements on your wedding day. Ensure that you have thread, hem tape, a needle, a safety pin, and scissors. The kit will come in handy if you experience any snags or tears or if you find any loose threads. In the meantime, safety pins are useful for securing various items.
If you don't want to pack your sewing supplies, you can find small kits at most supermarkets, drugstores, and convenience stores.
Snack Before the Ceremony
Due to the stress and anticipation of their wedding day, many brides skip meals. Preparing a light snack in advance is a good idea, as you probably won't want to eat a lot right before the ceremony. There's no need to risk feeling dizzy or nauseous during the ceremony. Keeping granola bars on hand is an excellent idea for a quick bite.
Products for the Face and Lips
Makeup for emergencies is a must in your wedding survival kit. Consider lip color, eye shadow, and other cosmetics. You need to be ready for photos in case of any of these smears or runs. While trying to stay hydrated, using a straw to protect your lipstick from being smudged is a good idea.
Boob Glue
There will inevitably be several dress-related mishaps while getting ready with your bridesmaids. Boob Glue is a lifesaver. Strapless bras won't slide down, and cleavage will stay put, plus much more, with this handy accessory. Put some Boob Glue in your wedding day survival kit, and you won't have to worry about your dress ripping or getting caught on anything.
Glue and Transparent Nail Polish
Nail polish remover works just as well on nylons and tights to prevent them from leaking. Right after you locate the tear, give it a quick coat of paint. Doing so will stop the socks from sagging even more. As a result, super glue helps mend worn-out shoes, damaged jewelry, and the like. Both should be included in your "just in case" wedding supplies.
Tape
A torn hem can be repaired quickly and easily with masking tape. One of the bridesmaids at my wedding fell down the stairs right before the ceremony and pulled the hem off her dress.
Cotton Swabs Soaked in Moisture.
Bridal survival kits benefit from the inclusion of moist towelettes. In the event of a minor spill or stain, this can help.
It's great to have these on hand if your hands get sticky. These will almost certainly be used in some capacity on your special day if there are children present.
Hand Cream
Do you know how dry your hands can get on your wedding day? Use your preferred hand lotion to keep your hands moist. If any brides experience dry hands, you can pass along your hand lotion.
Sunscreen
You don't want to ruin your wedding day and honeymoon with a bad sunburn. Apply sunscreen as soon as you get up in the morning. Sun-safe cosmetics are something you could consider.
Deodorant
Make sure to give a new brand a try on a long time before the wedding. Make sure it doesn't dry too thick or stain your clothes. It doesn't take much to start smelling like a train wreck on your wedding day. In a pinch, an extra can of deodorant could save the day.
First-Aid Supplies and Standard Medicines
The unexpected can and often does occur on the big day. There's a chance you might feel nauseous or have a headache. It's wise to keep a small first aid kit with common medications in your home.
Tonic for the Eyes/Solution for Contact Lenses
When you least expect it, that's usually when problems arise. Prepare for the big day by stocking up on eye drops and contact lens solutions. When your eyes are dehydrated, you can use contact lens solution or, if you prefer, eye drops. A handy eye-dropper is always appreciated.
Antacid
Today is the big day! Not feeling well is a significant problem, as is experiencing nausea or heartburn. To avoid this embarrassing situation on your wedding day, pack some antacids.
Band-Aids
Do you think you shaved too quickly and got a cut? When your mind is in a flurry, mistakes are easy to make. You should bring bandages in your kit. That's good to know for when the unexpected occurs. If children attend your wedding, you should have a first aid kit. Band-aids are a necessity if you have children; they bleed easily.