Open bars are almost always present at weddings! What if drinking doesn't appeal to you?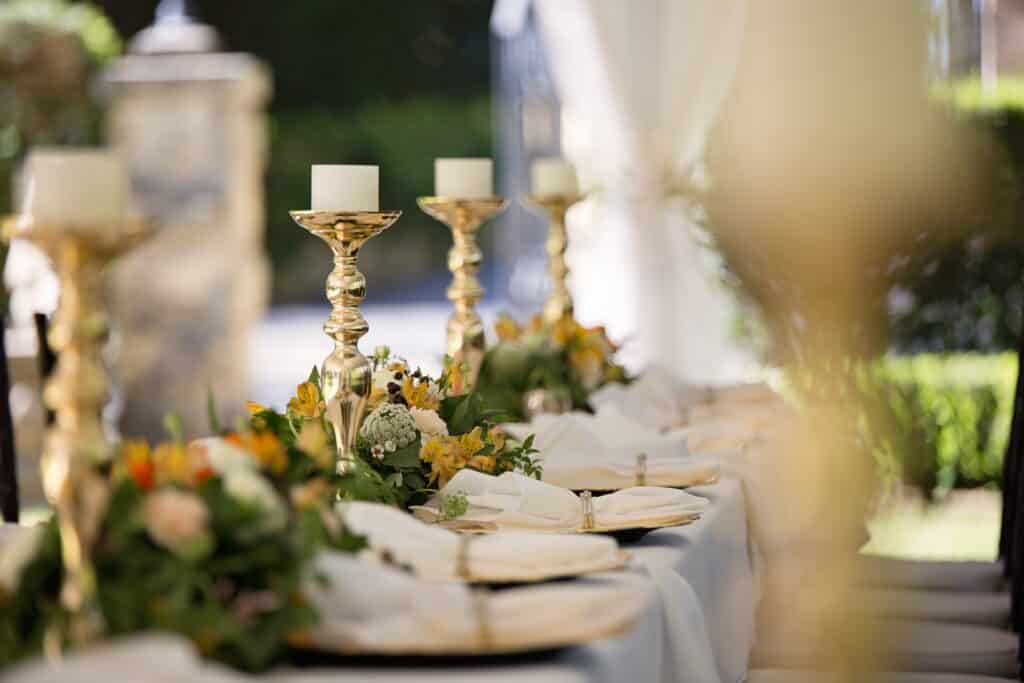 A dry wedding is alcohol-free! For various reasons, including economic and religious ones, the couple might decide against serving alcohol. It is entirely up to you whether or not to serve alcohol during your wedding. As the guests of honor, you get to choose how your wedding budget is spent!
Read this article to find out what a dry wedding is and how to make it enjoyable.
Why Hold a Dry Marriage?
Having a dry wedding is an entirely moral choice that is becoming popular at wedding receptions. Whether you and your fiancé don't drink much, you respect your parents' beliefs, or you simply want to save some money.
1. Date and Time
As couples try to cut costs, afternoon teas are growing in popularity. Booking a location on a Sunday typically results in more affordable costs, and the subsequent gathering—a small party—allows people to enjoy a lovely new marriage without taking up their entire day. Cocktails might not be suitable to serve if you choose this course of action.
2. Cost
Cost concerns are another justification for having a dry wedding. A cash bar at your reception is often not considered appropriate, but open bars may get pricey! Having what is referred to as a "soft bar" is one way to keep such costs to a minimum. It serves just wine and beer; it does not serve hard liquor. The simplest way to avoid paying for a bar is to have a dry wedding.
3. Playful Drink
You can still have specialty beverages even if your wedding is alcohol-free. Recently, weddings have embraced the super-fun trend of mocktails. Offer each guest a glass of white, chocolate, or strawberry milk with a cookie placed on top rather than champagne flutes for toasting.
How To Have More Fun at A Dry Wedding
1. Add Music to the Situation
Don't undervalue the importance of the perfect music if you want to make your ideal wedding a reality. The entire ceremony is set to music, keeping the guests entertained. And if you want to have a dry wedding, it's essential. Therefore, pick the proper tunes instead of the correct wine!
Make a mind-blowing playlist and take your homework seriously. Make it your best work yet. An emotional medley that adequately captures your range of feelings on your wedding day.
Select music from the first time you saw your significant other, the first date, your favorite holiday, and other memorable moments. But also make sure there is something in your selections for everyone. Include a variety of songs, from tear-jerking, romantic, emotional ones to energetic, joyous ones that light up the dance floor.
Your visitors will be entertained by your music choices and the ideal DJ or band without missing the wine or interfering with the celebrations.
2. Provide Some Vintage Mocktails
You've decided to have a dry wedding, but you're worried your guests won't like it. There is no cause for concern. Mocktails should be introduced to see the magic!
If you're concerned that the absence of Merica Bourbon would make your guests unhappy, think about substituting an alcohol-free Pomegranate Mojito.
Hiring a skilled bartender will help you take it to the next level. Together with her, come up with a unique virgin cocktail just for you and your partner. A special mocktail will maintain the festive and regal ambiance.
Try new things; your imagination and creativity only limit your options for a mocktail. Try combining tastes that represent the qualities of both you and your partner or something that both of your pals adore.
3. Create a Unique Wedding Theme
Plan your dry wedding around a theme as expert advice for doing it well. Anything on Earth can be the theme, but something significant to the event works best.
Try entertaining themes like "Waffle House" with a buffet of your favorite breakfast items. Or a fantasy story with enchanting, star-studded decorations, like "Celestial Night."
A theme could be a fond replay of your shared adventure. After all, it's a beautiful chance to relive all those moments, starting with the day you two first met and ending with your wedding.
Add activities to your idea for depth, such as swimming, a BBQ, and a bonfire with s'mores, and watch the visitors have a great time. Your guests will be occupied by activities, which will prevent them from missing the wine.
4. Select the Proper Time and Location
Plan your wedding during the morning or early afternoon if you are still concerned that your guests won't enjoy themselves without drinks. The goal is to schedule it around when people don't typically drink.
Since there won't be any alcohol available until later in the day, customers will likely be less disappointed.
Add more beverages to your menus, such as coffee, juice, smoothies, iced tea, lemonade, and a delectable breakfast. A dry wedding does not need guests to just consume water.
A few of the most entertaining and beautiful locations also forbid drinking. A recreational park, natural reserve, lakeshore, beach, or a public square would be suitable locations for the event.
5. Include Some Games
You may inject joy and vigor into your somber wedding with a few pre-planned (or even unplanned) wedding games and activities!
Work along with your DJ to make the event entertaining for everyone. Or arrange a booth and invite a skilled photographer. Now all you have to do is relax while holding hands and take in everyone else's joy.
Encourage guests to interact with their closest friends and social networks by providing entertainment. Everyone is brought together when there is participation, providing possibilities for conversation and memory-making moments.
6. Provide a Wide Range of Food
Organizing a non-traditional wedding to serve delicious, distinctive food is not necessary. The ideal meal selection might tilt the scales in your favor. Weddings are so much more than whisky cocktails.
After a few days, your guests might forget how beautiful the decorations or your wedding card looked, but they'll never forget how the meal tasted.
Whether the reviews are kind, they will undoubtedly leave a lasting impression. A thoughtfully created menu can help your wedding day become a memory you will always appreciate.
7. Adapt it for Children
The tone and focus of the wedding are frequently improved when children are involved. Make use of this to divert attention from the absence of alcohol present.
If you are a child-loving couple with friends who share your outlook on life, having children at your wedding works incredibly well.