Couples embark on the monumental work of wedding preparation soon after their delight and excitement of being engaged is over. Even though many couples may readily agree on their dream wedding day, preparing the specifics can be challenging.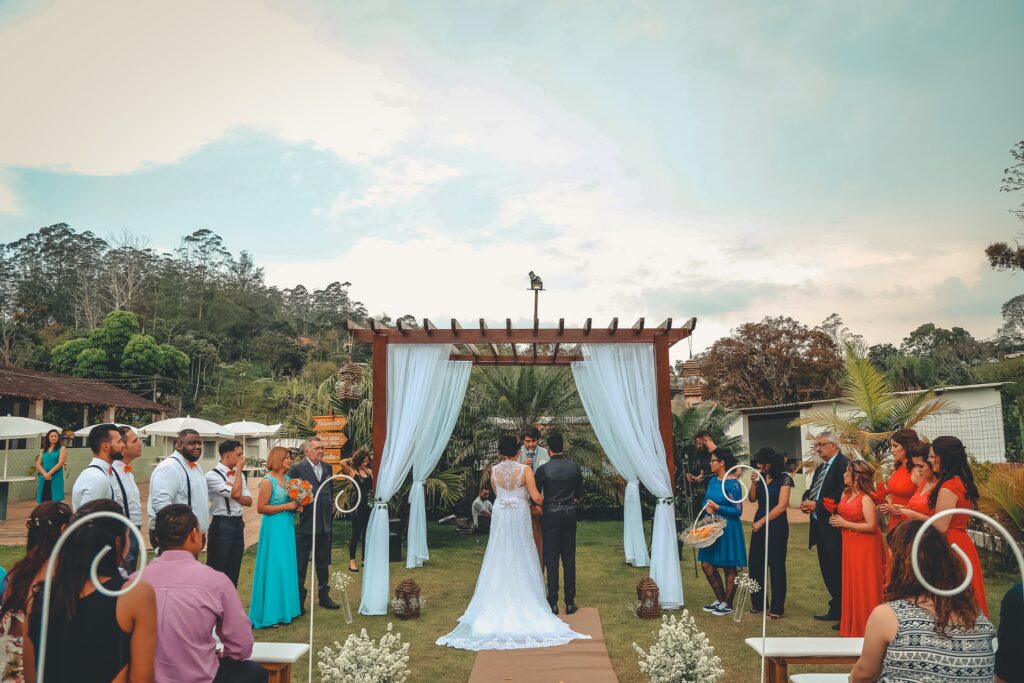 Consider hiring a wedding coordinator to transition from being involved to planning your wedding day stress-free.
You need to find a coordinator who you feel at ease with. To acquire a feel for their personality and style, you'll need to set up a meeting. The average wedding coordinator fee is ten to fifteen percent of the whole budget. For your wedding organizer to bring your dreams to life, you must be open and honest with them about your vision. Your coordinator will be able to iron out the details and make your vision a reality provided you give them vital information about your goal.
The best coordinators have a deep understanding of their field. Your mentors and advocates are available to help you succeed. They should be able to design a wide range of events, from modest weddings to large-scale galas. Inquire about the number of occasions the company organizes each month. A coordinator's schedule usually takes on only two or three weddings per month at any given time. Ensure that your coordinator is available to provide you with the personal attention you need.
Wedding Coordination Benefits of a Wedding Coordinator
Numerous advantages are available to customers who hire an event organizer to assist them in planning their wedding. One of the most challenging things in preparing a wedding ceremony is ensuring that everything goes according to plan to make it a truly memorable occasion. As far as wedding-related events go, you can't expect anything less.
The organizer of a wedding must be able to multitask as a planner, money manager, mediator, and artist. The wedding coordinator is essential to the success of the ceremony. As a wedding coordinator, you have to deal with a lot of tension and keep your cool under pressure. In addition, the wedding planner must keep an eye on the finer points and the big picture of the entire event. A coordinator's job is made more difficult by the sheer number of things that might go wrong during a wedding ceremony.
Wedding coordinators, in general, provide the following advantages:
Helps the client plan a themed wedding
To do this, you need to have good money management skills, develop a budget, and track all of the money you spend on the event.
With the help of this feature, you can keep your client's budget under control and avoid exceeding their set limit.
Provides location, color scheme, music, and vendor recommendations based on the customer's spending power.
A wedding setup timetable is prepared to ease the burden on the consumer.
He saves a significant amount of money each month through his ties with other service-related businesses, such as a catering service.
In an emergency during the wedding ceremony, this person will step in to help.
Make a timeline for the wedding reception.
Attends to the needs of guests at the wedding.
The wedding planners will provide their services by the package selected by the client or the amount invested in their services by the client.
You'll be able to relax in your wedding ceremony more if you hire a wedding organizer to handle the details. And your mom as maid of honor can enjoy it as well. It's essential to hire an experienced wedding organizer to ensure that your big day goes off without a hitch. Additionally, make sure that the coordinator possesses valuable non-organizational abilities so that she or he can deal calmly with any circumstances that may arise during the event. Further, look for event coordinators who have established relationships with many potential customers and business partners.
Of course, hiring a wedding coordinator does not absolve the customer of the responsibility of making or taking decisions for their wedding. When it comes to the venue, design, invitation, wedding time, entertainment, and food, both the customer and coordinator will be involved. The bride and groom will be free from the stress of wedding coordination after finalizing the specifics.
When Choosing a Wedding Coordinator, What Should You Look for?
When we get engaged, many don't realize how much time and money it will take to put together the perfect wedding celebration. Having chosen a date, announced the event, and now. What's the price tag on this? How long will it take to finish? There is so much to learn!
There is nothing wrong with feeling overwhelmed when arranging a wedding in Vancouver, and engaging the services of a professional wedding coordinator can alleviate some of the burdens. When hiring a coordinator, these are some qualities to look for:
1. Personality
You should tell right away if you're a good fit. A wedding coordinator needs to learn about you and your love story and your vision for the big day. To feel that your coordinator is an extension of you, you should be able to communicate openly with them.
2. Able To Pay Attention to What Others Are Saying
A wedding coordinator needs to be aware of your vocal and non-verbal communication. They should be able to help and assist you in defining your goals and developing a strategy to achieve them.
3. Soothing
A wedding organizer should radiate warmth and trust and be a person you can rely on. They will treat each family member, guest, and vendor with respect and kindness. A wedding organizer should blend in with your guests and clearly understand what you want to serve as your hands, eyes, and ears at your wedding.
Determine how much help you need and make sure your wedding planner in Vancouver understands this. Your level of satisfaction is directly related to how good and how far they are willing to go above and beyond your expectations.
When you've found the wedding planner who most closely resembles your unique characteristics, it's time to get them on board. You won't regret hiring a wedding planner to help you plan a stress-free, unforgettable event on your big day.