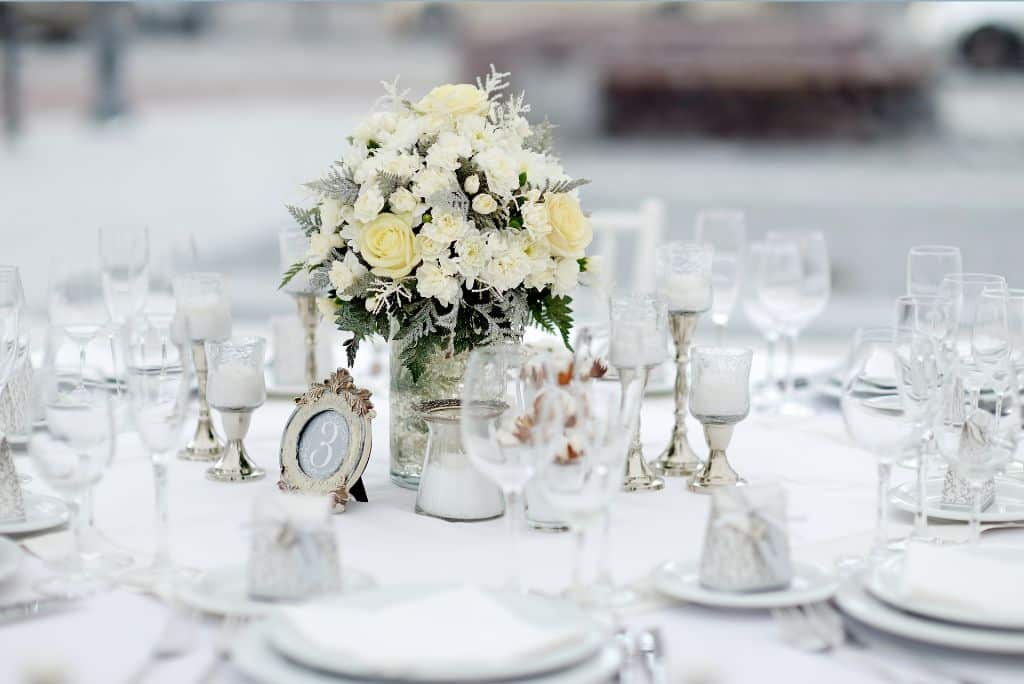 When the topic of wedding themes arises, the vibrant city of Las Vegas inevitably springs to mind.
Revered as the 'Marriage Capital of the World,' Las Vegas holds the reputation of offering some of the most unique and unforgettable wedding experiences available globally.
Issuing an average of nearly 100,000 marriage licenses annually, the city undeniably holds a magnetic allure for couples desiring an extraordinary matrimonial experience.
Central to this appeal is the array of diverse and distinctive wedding themes available in Las Vegas, with the city's wedding chapels, such as the renowned Las Vegas Wedding Chapel, playing an instrumental role.
Throughout this article, we will explore the colorful streets of Las Vegas, delving into how personalization is not merely an option but, instead, a celebrated tradition in this city that truly never sleeps.
10 Reasons Why Wedding Themes Are Crucially Important
Showcases Personality: Wedding themes are a fantastic way to express the couple's personalities, giving guests an insight into their unique traits.
Narrates a Love Story: The wedding theme can illustrate the couple's love story, offering a glimpse into their journey together and their shared passions.
Movie-like Experience: Just as the unforgettable wedding scene in 'The Hangover' highlights the couple's distinct identity, a carefully chosen theme can create a similar cinematic charm for real-life weddings.
Memorable for Guests: With a special theme, your wedding becomes an unforgettable event for the guests, making it stand out from countless other weddings they may have attended.
Influences the Grandeur: Take a cue from the royal wedding of Prince Harry and Meghan Markle. The theme wasn't merely about grandeur but was deeply personal, reflecting their unique journey.
Enhances Cultural Value: A wedding theme can beautifully incorporate and showcase the couple's traditions and cultural values, making the event more intimate and authentic.
Guides the Wedding Experience: Wedding themes play a pivotal role in determining the overall experience of the wedding. They set the mood, dictating every other detail of the ceremony.
Unifies Decor Elements: The theme is crucial in dictating the décor. It is a guiding principle, bringing coherence and aesthetic appeal to the wedding space.
Influences Attire Choices: A theme can extend to the attire of the wedding party and even guests, adding an extra layer of cohesion and enjoyment to the event.
Impacts Food and Music: The choice of theme can influence everything from the menu to the playlist, ensuring that all aspects of the wedding blend seamlessly to create a harmonious and immersive event.
Top 6 Las Vegas Wedding Themes for an Unforgettable Experience
Casino-Themed Weddings
For those who want to bet on their love, a Casino-themed wedding is a perfect pick.
The venues are designed like mini-casinos with blackjack tables, roulette, and slot machines. It's a fun and interactive theme that your guests will love.
Elvis Presley-Inspired Weddings
Pay tribute to the King of Rock 'n' Roll with an Elvis Presley-inspired wedding.
These weddings incorporate Elvis impersonators, 50's music, and an ambiance straight out of the Elvis era, making for a truly memorable and unique experience.
Rat Pack-Inspired Weddings
A Rat Pack-inspired wedding is an excellent choice for a dose of vintage glamour and sophistication.
This theme recreates the ambiance of the era when Frank Sinatra, Dean Martin, and Sammy Davis Jr. ruled the roost. It's all about class and charisma with this theme.
Desert Oasis Weddings
Experience the tranquility and natural beauty of a desert setting without leaving the city with a Desert Oasis wedding.
This theme blends rustic charm and elegance against the backdrop of Las Vegas' picturesque landscapes.
Vintage Vegas Weddings
Take a trip down memory lane with a Vintage Vegas wedding. This theme boasts neon signs, retro Vegas décor, classic cocktails, and an ambiance that screams 'Old Vegas'.
It's perfect for couples who want a nostalgic and vibrant wedding.
Iconic Las Vegas Landmark-Themed Weddings
Celebrate your love with a theme inspired by the iconic Las Vegas landmarks.
Be it the elegance of the Bellagio, the romance of Paris, or the grandeur of the Venetian, this theme lets you experience the charm of these landmarks on your special day.
Breaking Down Each Theme
Now that we've introduced each theme let's explore what makes them unique, with ideas for decorations, outfits, music, and even some venue recommendations.
Casino-themed weddings are all about fun and games.
The décor is dominated by red, black, and white colors, playing cards, dice, and poker chips.
Brides and grooms can opt for classic cocktail attire to keep the vibe sophisticated yet relaxed.
Think Frank Sinatra's "Luck Be a Lady" for the perfect soundtrack.
And where better to host such a wedding than in one of the famous Strip's casinos?
For Elvis Presley-inspired weddings, it's all about 50's rock n' roll.
Decorations can include vinyl records, classic Cadillacs, and a jukebox.
Grooms might don a classic Elvis costume, while brides can channel Priscilla Presley's style.
Venues like The Little Chapel of Flowers, which boasts its own Elvis impersonators, are perfect for these weddings.
Rat Pack-inspired weddings are about vintage glamour.
Choose decorations like black and white table settings, martinis, and vintage microphones.
Outfits could mirror the elegant style of the 60s – slim suits for grooms, and for brides, classic gowns reminiscent of the iconic Audrey Hepburn.
And as for the venue, what could be more suitable than the Sands Hotel, where the Rat Pack performed?
Desert Oasis weddings are for nature lovers.
Think succulents, lanterns, pampas grass, and neutral tones for décor.
Brides could opt for flowing dresses with floral accessories, while grooms could don linen suits.
Springs Preserve is a fantastic venue that captures the beauty of the desert.
Vintage Vegas weddings can be full of fun retro elements.
Think neon signs, vintage Vegas postcards, and classic cocktails like the Tequila Sunrise.
A chic vintage dress for the bride, a Rat Pack-style suit for the groom, and a venue like Neon Museum would make it perfect.
Iconic Las Vegas Landmark-themed weddings allow couples to bring famous Vegas sites into their wedding.
For example, a Paris-themed wedding might include mini Eiffel Towers, French cuisine, and accordion music.
The Bellagio could serve as the perfect venue for such an elegant affair.
Customizing Your Las Vegas Wedding Theme
Now, let's talk about making these themes your own.
One of the most popular ways is by integrating personal interests with your chosen theme.
For example, if you're a music-loving couple planning an Elvis-themed wedding, why not incorporate your favorite band or songs into the music selection?
You could also work with wedding planners who specialize in custom themes. They have the insider knowledge and experience to understand your vision and make it a reality.
Additionally, there are countless DIY ideas for personalized wedding themes.
For example, you could design your Vegas-style neon sign or create personalized poker chips for a casino-themed wedding.
Practical Considerations
While planning your themed wedding, it's essential to consider practical aspects, too.
Budgeting is crucial.
Themed weddings can range from affordable to expensive, depending on the intricacy of the theme and the specific elements you wish to include.
Timing and planning are other vital considerations.
Certain themes might require more extensive preparation or specific timing.
For example, an outdoor Desert Oasis wedding would be more comfortable in the cooler months.
Lastly, being aware of any legal or licensing issues for specific themes is essential.
For example, if you plan to incorporate gambling into your casino-themed wedding, you must comply with Nevada state law.
Conclusion
In conclusion, Las Vegas presents an extensive array of wedding themes tailored to every couple's taste.
The city's vibrant culture and history are an endless fountain of inspiration, making it an unparalleled destination for creating unforgettable wedding memories.
We invite you to embrace your creativity and individuality when selecting your wedding theme. Remember, a wedding isn't just a ceremony – it's a celebration of your unique love story.
And there's no better place to honor this uniqueness than in a city with a reputation for embracing the extraordinary.
5 FAQs
What is a Casino-Themed Wedding in Las Vegas?
A Casino-themed wedding in Las Vegas is a fun and exciting wedding theme that brings the thrill of gambling to your big day. The venue is often set up like a mini casino complete with blackjack tables, roulette, and slot machines for guests to enjoy.
What can I expect from an Elvis Presley-Inspired Wedding?
Elvis Presley-Inspired weddings pay homage to the King of Rock 'n' Roll. Expect the ceremony to feature an Elvis impersonator, music from the 50's, and an atmosphere that transports you back to the iconic Elvis era.
What does a Rat Pack-Inspired Wedding entail?
Rat Pack-Inspired weddings aim to recreate the vintage glamour and sophistication associated with Frank Sinatra, Dean Martin, and Sammy Davis Jr. This theme typically includes classy decor, swanky music, and an overall atmosphere reminiscent of the Rat Pack era.
Can I have a nature-themed wedding in Las Vegas?
Absolutely! Desert Oasis weddings offer a unique blend of city convenience and natural beauty. Expect rustic charm and elegance with stunning views of the surrounding desert landscapes for a truly memorable wedding.
What are Vintage Vegas Weddings like?
Vintage Vegas Weddings harken back to 'Old Vegas', featuring neon signs, retro Vegas décor, and classic cocktails. This theme provides a vibrant, nostalgic atmosphere that will give your wedding a unique, unforgettable flair.