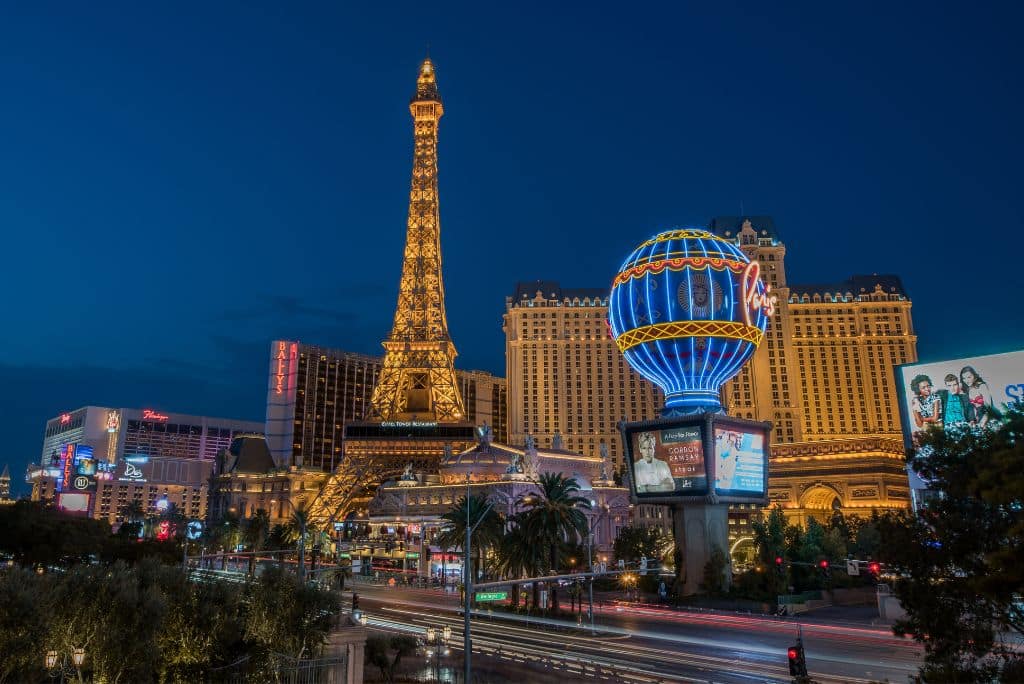 Las Vegas may not be your typical honeymoon location. It provides various thrilling activities and beautiful lodgings to make your post-wedding holiday memorable. This post will offer Las Vegas honeymoon ideas and budget-friendly but romantic travel advice.
How to Plan a Las Vegas Honeymoon
When planning a Las Vegas honeymoon, there are several things to remember. First, decide on the duration of your trip. How many days in Vegas is enough? It recommends spending at least 3-4 days enjoying the city's various attractions and experiences thoroughly. Chapels in Las Vegas are mesmerizing.
Once you have decided on the duration of your trip, it's time to choose your accommodations. Las Vegas offers many hotels and resorts, from budget-friendly options to luxurious five-star properties. Some of the most popular honeymoon hotels in Las Vegas include The Venetian, Bellagio, Wynn Las Vegas, and ARIA. When booking accommodations, look for special honeymoon packages with romantic amenities such as champagne and chocolates. 
How Much to Budget for a Las Vegas Honeymoon
Las Vegas can be an expensive destination, but it doesn't have to break the bank. Set a budget for your honeymoon and stick to it. On average, a Las Vegas honeymoon for a week can cost around $2,500-$4,000, depending on your accommodations and activities. Some of the most significant expenses you will incur include hotel accommodations, food and drinks, transportation, and entertainment.
To save money on your honeymoon, consider traveling during the off-season when prices are lower, booking accommodations and activities in advance, and using deal sites like Groupon to save money on meals, shows, and attractions. You can also look for free or low-cost activities in Las Vegas, such as visiting the Bellagio Conservatory and Botanical Gardens, walking along the Strip, or watching the Mirage volcano erupt.
Las Vegas Honeymoon Ideas
Now that you have an idea of how to plan and budget for your Las Vegas honeymoon, here are some ideas to make your trip more romantic and memorable:
Visit the Fountains of Bellagio and watch the water dance to music with your partner.
Enjoy a romantic helicopter ride above the Grand Canyon.
Book a couple's massage at a luxurious spa-like the Encore Spa at Wynn Las Vegas or the Qua Baths & Spa at Caesars Palace.
Try a revolving restaurant at the top of the Stratosphere Tower.
The Venetian offers romantic gondola rides around the canals.
These are just a few romantic activities you can enjoy during your Las Vegas honeymoon. You can also take a wine-tasting tour, go on a sunset horseback ride, or rent a limousine for a romantic night out.
What to Wear on a Las Vegas Honeymoon
Vegas's sparkle and splendor extend to your honeymoon attire. Depending on your agenda, you may want to pack elegant clothes for meals and shows and comfy clothes and shoes for roaming the city. Some of the dress codes to keep in mind include the following:
Casual: For daytime activities, such as walking along the Strip or visiting museums, casual attire, such as shorts, t-shirts, and comfortable shoes, is appropriate.
Smart casual: For dinners at upscale restaurants or shows, smart casual attire such as a dress or slacks and a button-down shirt for men is recommended.
Cocktail: For fancy evenings out, such as a night at the casino or a nightclub, cocktail attire, such as a little black dress for women or a suit for men, is appropriate.
Resort wear: If you plan on spending time at the pool or spa, bring a bathing suit, cover-up, and comfortable sandals.
Remember to pack according to the season and weather conditions, as Las Vegas can be hot in the summer and chilly in the winter.
When to Honeymoon in Las Vegas
Your budget and choices determine when to honeymoon in Las Vegas. Due to favorable weather and outdoor activities, March to May and September to November are Las Vegas's busiest months. It is the most costly and crowded time to visit.
Go in June–August or December–February to avoid crowds and save money. Indoor activities like entertainment, shopping, and dining are still fun throughout these seasons.
How to Plan a Las Vegas Wedding on a Budget
There are several methods to design a cheap Las Vegas wedding. Secondly, consider a weekday wedding instead of a weekend because many venues charge less. Second, to cut food and venue costs, have a smaller wedding with fewer attendees. Finally, choose a wedding package including a chapel, flowers, music, and photographs.
Finally, look for deals and discounts on wedding packages and services. Many wedding venues and vendors offer discounts for booking in advance or during the off-season.
Conclusion
Las Vegas may not be your first choice for a romantic honeymoon, but its numerous activities and experiences make your post-wedding trip memorable. These recommendations help you arrange a beautiful yet affordable Las Vegas honeymoon. Las Vegas has everything from romantic dinners at rotating restaurants to morning hot air balloon rides to chapel weddings. Why not make Vegas your honeymoon destination?