Every little girl seems to have fantasized about dancing with her father on the most important day in their lives!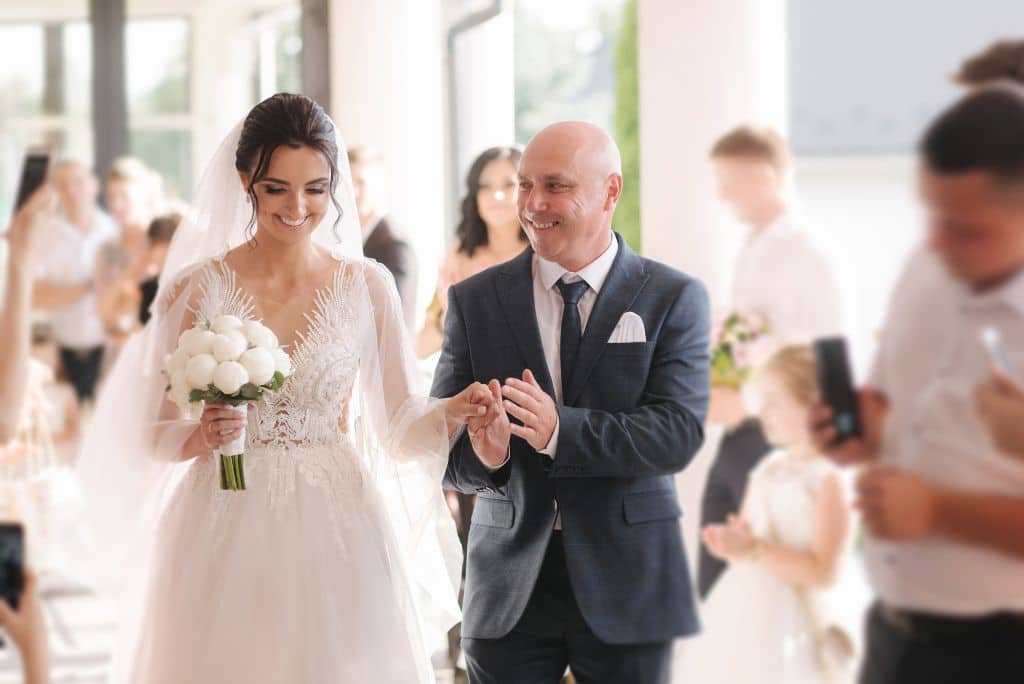 As a child, you may have experienced this at least once while he was teaching you how to dance on his feet. It's time to pay it forwards! 
Then, what can you do to ensure that your father and daughter wedding dance is perfect? Here are three factors to consider to make it all come true.
Father's Personality
The first and perhaps most crucial consideration is your father's character, preferences, and sense of style. Who is he as an individual? How fun would it be to start with an upbeat song for 15 seconds, then shock the audience by switching to a lively tune for the next 15 seconds? Wouldn't it be wonderful if he could slow dance with his daughter to one of Journey's greatest hits? To summarize, the most crucial consideration when selecting a song is whether or not your father will be supportive of your song selection.
Father's Presence
When it comes to the father-daughter dance, he must be well-informed on the flow of the celebration. Make sure your dad understands when it's his turn to dance during the wedding. 
Daddy and Daughter Time
As a final and crucial step, ensure you document and savor every precious second you have with your dad. It is a once-in-a-lifetime opportunity. You may burst into tears or burst into uncontrollable laughter as a result of the overwhelming sensations. In either case, now is a fantastic moment to show your dad how much you care about him. It's an ideal opportunity to reminisce about the good times you've shared and express your feelings to him.
6 Simple Steps to Have a Memorable Father and Daughter Dance
A father-daughter dance at a wedding is a memorable moment that is all too frequently missed. Many folks assumed they could just "wing" it when dancing in front of a large wedding party but soon discovered how awkward it may be.
The following are a few simple steps to help start your father-daughter dancing celebration. Enjoy!
Select a perfect song
Find music that both you and your father would love. A song with a special meaning to you, a tune you sang with him as a child or a song that is just plain fun with a terrific dancing beat are all possibilities! Ultimately, it's up to you to decide. You should not dance for more than 2 1/2 minutes for the song's duration. Dancing in front of a crowd might feel like an eternity, especially for those who have never done it. 
Learn the Basic Steps
Make sure you practice the dance steps with your father and ask if he is comfortable with it. Many father-daughter dance songs are available now in a different genres.
Learn a Spinning Move
You can spice up your father-daughter dance by adding a turn or two after you get the fundamentals down. Learn an essential and elegant right turn.
Learn a Gorgeous Move
You can walk your father to the dance floor and get into the dance position before you start dancing. You may utilize this notion as a starting point when making your intro more interesting.
End it with a Bang!
A fancy dip is a must-have for every dance! Learn how to dip with your daughter safely and gracefully. Make sure to do this frequently and alter the depth of the dip to your comfort level.
Enjoy Your Time!
Keep in mind to have fun and enjoy the moment! It is one of the most treasured memories you'll ever have with your father. Do not worry about making mistakes when dancing. You're not being evaluated on your dance prowess. As you dance with your father, all you have to do is laugh and enjoy yourself.
The Meaning and History of the Traditional Dance
Like many wedding rituals, the father-daughter dance is rooted in the patriarchal past. Father-daughter dances were traditionally performed to celebrate the bride's father before his daughter married her soon-to-be partner for life. It was only after this dance that the bride and groom were able to dance with each other for the first time.
It is no longer as significant as it once was and rarely comes first. Many couples have chosen to have their first dance as their own as society has progressed. Immediately following the newlyweds' first dance, you will discover the father-daughter dance.