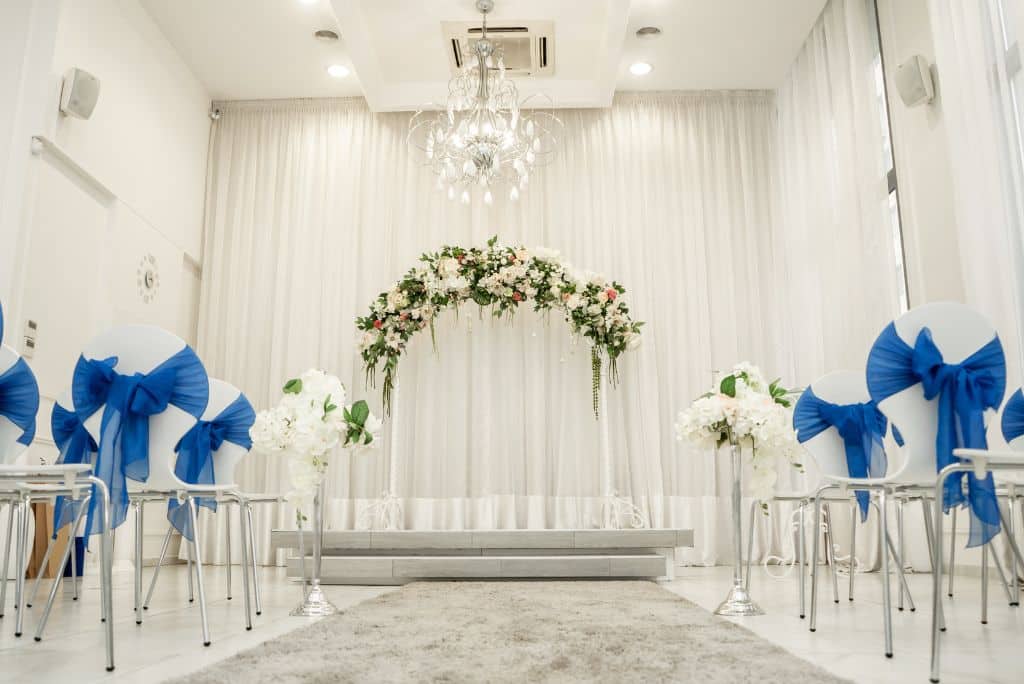 It's not just one of the first things you should do when planning a wedding but also the most important.
You'll want to be confident that you're making the best decision possible for your wedding day before putting down a deposit on a wedding venue.
One can easily get carried away when researching potential wedding locations. Take a list of questions with your on-site visits to possible sites.
1. Does the date work for the venue?
Ask this as your first inquiry if you have a specific wedding date in mind. The date of an event can be as crucial as the location itself, although this may seem like stating the obvious. During the warmer months, weekend dates tend to fill up quickly, sometimes years in advance, so it's best to check with the venue beforehand to ensure availability.
2. For that price, what exactly do you get?
To avoid going over budget for your wedding, you must know precisely what is included in the price. Inquire about the standard things like sales tax, the cost of tables and chairs, labor, and the cost of a civil ceremony.
3. Where can you find out the maximum holding capacity?
Ensure you know how many guests you can expect before sending out invitations. Get this information as soon as possible because the size of the venue will significantly impact your guest list.
4. Can the bride, groom, and wedding party use a room before the ceremony?
Many wedding venues have rooms or other designated areas for the bride, groom, and wedding party to use in getting ready for the ceremony, but this is not always the case.
5. When is the venue deposit due, and how much is it?
If you decide to book a wedding venue, you will likely need to pay a deposit. The required deposit will vary from location to location, but as a rule of thumb, it is typically fifty percent of the total bill.
6. Where exactly will you be staying?
There may be limitations on the rooms available to you and your guests based on the schedules of other events at the same time as yours or the venue's status as a private residence or historic landmark. You should inquire as far in advance as possible if you have your heart set on using a specific room.
7. When a wedding ceremony concludes, how does the reception typically begin?
There's probably a standard procedure followed when moving from the ceremony to the cocktail hour and then the reception at a given venue. Make sure it works with your plans for the day, and see if you can negotiate any changes to the schedule.
8. Is there wheelchair access at the venue?
Now is the time to ask if you know anyone who will need special assistance with mobility or access. The venue might help you figure out what to do about those people.
9. Has seasonally appropriate heating and cooling been installed?
Depending on the season, air conditioning or heating will keep your guests comfortable while they dance the night away. Check with the venue to see if they can provide portable cooling or heating equipment if you need it.
10. Have you checked if there's a place to store coats? What sort of coat check services do you offer?
Having a coat check is a great idea for a winter wedding in a cold location, but it may incur extra costs due to the additional staff needed.
11. Where can people smoke if one is provided?
Rules about smoking can be quite different depending on where you are. This information probably won't make or break your booking decision, but knowing it never hurts.
12. Will there be any upcoming changes or renovations to the venue?
Keep an open mind about potential location shifts. Inquire about the planned upgrades and any upcoming modifications in advance. If the alterations are substantial, you may want to request a blueprint or a 3D rendering of the final product.
13. Are animals welcome at the ceremony?
Before purchasing that adorable outfit, confirm that your wedding venue allows dogs to serve as ring bearers.
14. Do you offer food catering? Do you get to try out some of the food before you order?
While not all venues will include a wedding tasting in the package cost, it is highly recommended.
15. Do you have options for guests who have special dietary needs?
If the venue can't accommodate special dietary needs, ensure your guests will be fed anyway. It's probably not a problem, but it's always wise to err on caution.
16. Will there be any limitations on how the room can be decorated? Can we rearrange the furniture?
Open flames, fireworks, flower petals, confetti, and other potentially dangerous or messy decorations may be prohibited at some venues. Before reserving, make sure the venue can accommodate your needs.
17. Are there microphones and sound systems for speeches?
You, the bridesmaids, and anyone else who might want to speak at your wedding should feel comfortable doing so, so you should check that the venue has adequate acoustics. Similar to the previous inquiry, this answer will probably depend on the previous one.
18. What are the dance floor options?
When hosting a wedding, some locations offer a variety of dance floors to choose from. Others may partner with suppliers offering individualized choices.
19. Is there a place for the kids to play?
You should check that the wedding venue you're considering is suitable for children if you plan to invite any or if you already have any in attendance.
20. What kind of decorations does your venue offer?
Include things like lighting, table centerpieces, table numbers, and chairs. Some locations are simply blank slates waiting to be decorated with the patron's furniture and decorations.
21. Does your service allow for real-time broadcasting?
It is crucial information if you're thinking about streaming your event live. Inquire about the internet connection quality if live-streaming features are not included.
22. Do you plan to hire someone to manage the venue?
Wedding planners are not the same as venue coordinators. The venue coordinator is one of the most influential people at your event. Your wedding planner will oversee the design, vendor coordination, and day-of logistics.
23. What are the costs involved?
Rental of a particular location for the ceremony and any additional time or help required may be among these. There are brochures available from many places detailing all of the additional costs.
24. Do you know of any good wedding bands that you could suggest?
When it comes time to choose a wedding band, the coordinator at your venue will be a great resource. To find out what bands have played there before, just ask!
25. What number of power outlets are available on stage?
The beating heart of any performance. Power! Ensure the venue has access to electrical outlets, as bands must plug in their equipment.
26. Is there a power outlet outside?
Is there access to electricity if you plan on having wedding festivities outside? Not all performers require electricity; some can even use battery-operated instruments.
27. Are firework displays and fire jugglers permitted?
As a show-stopping feature, fire performers at weddings are rising in popularity. Before booking these artists, make sure your wedding venue has enough space for them.
28. Can you tell me the room's dimensions?
Yes, we're discussing dimensions here. Some wedding performances, such as stilt walkers or visual pieces, require a certain amount of space to function correctly.
29. Are smoke machines appropriate for my event?
They're stunning, but you shouldn't set off smoke detectors during the show. Inquire about the guidelines.
30. Is there a microphone set up for the speakers?
In some cases, performers will allow you to use their sound system, but this may come at an additional cost and require them to arrive early to set up. Find out if the venue has a good system installed to cut costs.
31. What are the corkage fees, if any, for bringing in outside alcohol?
It's a good idea to inquire about any additional costs at various points throughout the day.
32. To what extent do bar tabs run?
Determine the cost of beverages for your guests and whether or not an open bar is an option.
33. How many people will be working at the bar?
You should inquire at your reception hall about the bartending staff. Take into account how many people you expect to attend and whether or not you can hire extra help that night.
34. Do you accept contactless cards from guests?
Today's currency does not wiggle or fold like it did in the past. It just makes a beeping noise. You should make it simple for your guests to pay on the day of the event.
35. At what time will the bar be closing?
The bar will have its closing time; be aware of this and drink responsibly!
36. Is it possible to get a sneak peek at any of the dishes the night before the event?
Different foods are the best way to decide on a wedding menu.